Halo,

Saya mau sedikit menjelaskan bagaimana sebenarnya prosedur untuk melakukan perubahan program secara online ataupun offline pada PLC M580 Redundant tanpa harus menyebabkan Downtime/Shutdown.
READ MORE
Modbus?? old school protocol (more than 40th years).
when Modbus created, it was created for Serial communication via RS485. after year by year, technology was changing and ethernet / TCP widely used in PLC and industrial control system, then Modbus move their medium to Ethernet and wrap their message in TCP (encapsulated) over ethernet.
Now, when everything going to the cloud or RTU/PLC are not in the same place with SCADA and it only have internet connection, it will be hard and expensive for Modbus to keep exist in Internet area. because we need at least public IP for each device, or creating VPN.
but with MQTT the message can be send over the broker (on the cloud), so it will be exiting if modbus can be sent through MQTT.
if you've heard about Node-red this is cool IoT tools/platform built in NodeJS.
I'm using Node-red to make it's encapsulation, and Modscan as Modbus Master (or SCADA), and Modsim as Modbus Slave (or PLC)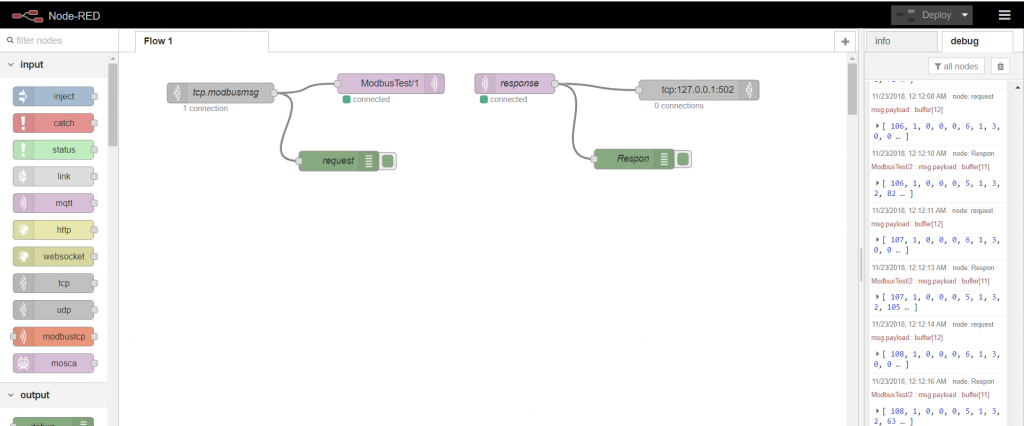 READ MORE
MQTT tutorial – Node-Red
Broker+Client HiveMQ : http://www.hivemq.com/demos/websocket-client/
Local Client : Node-Red
Cara membaca nilai ION7650 power logic ke SCADA CitectSCADA 2016. melalui Ethernet (Modbus TCP)
Citect SCADA, Ion powermeter
If your HMIG3U Magelis runtime just crash and Halt you can recover only using SDcard by using this tool "BackupRecovery" you can download from this link: https://schneider-electric.box.com/s/c6ray49otwvj1p3ugyq66b3kx76lsqzc
and image recover HMIG3U VJD 6.2 SP 5.1 : https://schneider-electric.box.com/s/pxquf8r3d507k01od8w8l1rnowv8nj8m
and here is the official tutorial from schneider electric, the different thing is only version of image. if you are using newer version you can't recover to the previous version so I created the newest version:
https://www.schneider-electric.com/en/faqs/FA242275/
Halo,
Jika kita sudah pernah menggunakan Vijeo Designer, pasti sudah sangat familiar dengan cara Save Project yang agak sedikit berbeda dengan software seperti microsoft excel atau software pada umumnya. jika kita melakukan penyimpananan pada software apapun, normalnya kita akan ditawarkan untuk menyimpan di lokasi tertentu, namun berbeda dengan Vijeo Designer yang menyimpan ke lokasi default nya, yang mungkin kita butuhkan. walaupun sebenarnya kita dapat melakukan backup/Export kemudian barulah kita dapatkan file backup berupa *.VDZ ada kalanya kita butuh backup project nya secara langsung dari folder defaultnya, dimanakah folder tersebut?
berikut adalah lokasi default Vijeo Designer 6.2 :
C:\Users\Public\Documents\Vijeo-Designer 6.2\Vijeo-Manager
Vijeo Designer Basic 1.1:
C:\Users\Public\Documents\Vijeo-Designer Basic 1.1
Magelis, Vijeo Designer, Vijeo Designer Basic, Schneider Electric
Jika anda membutuhkan sebuah data logger dari Citect SCADA / vijeo citect ke SQL misal Ms SQL Server, atau anda ingin melalukan sejumlah sampling data dari Citect SCADA / Vijeo Citect ke database, berikut video solusinya:
Cara logging data Citect SCADA ke SQL, Citect to SQL
Modicon M580 Merupakan ePAC (Ethernet Process Automation Controller) yang di desain compact dan memenuhi kebutuhan untuk medium offer atau skala menengah di Proses Automation.
Fitur Utama: Integrated Distributed IO  dan atau Integrated Distributed IO
Kapasitas CPU Discrete IO : 1024, 2048, 3072, 4096
Kelebihan lain:
Benefits
Achieve a more productive and efficient process
By embedding standard unmodified Ethernet right into its core, Modicon M580 offers you more transparency, flexibility and openness so you can access the right production information at the right time, and achieve a more productive and efficient process.
Performant:
Data management speed up to twice
Timestamping less than 1 millisecond
Innovative:
Open Ethernet backbone
High-tech PAC
High precision
Safety designed for future
Energy efficiency enabling
Cyber secure built-in
Easy and flexible:
Design your architecture without constraints
Modify your process and architecture in run
Diagnose remotly
Reduce your development costs
Sustainable:
httpvh://youtu.be/Uz827S7tjRU
To play this simulation you need to have this item:
Unity PRO S (minimum) / Unity Pro L /Unity Pro XL. Version 5 / 6 / 7 / 8 (I'm not provide the installer, you can find on another forum 1.5 Gb)
Matlab 2012 / Matlab 2013 with simulink (I'm not provide the installer, you can find on another forum 6.5Gb)
Modbus Ehternet OPC Server (Iconics) http://adf.ly/lA1Gt this is free OPC server, you don't need to license the software
Simulink Model, OPC Configuration(should be load from iconics modbus OPC Server) http://adf.ly/lA205
Unity Pro XL adalah software yang digunakan untuk programming & konfigurasi PLC Schneider.
PLC yang di dukung oleh Unity Pro XL antara lain:
M340
Modicon Quantum
Modicon Premium
M580
Pada jenis PLC tersebut tidak semua processor/CPU pada PLC tersebut didukung oleh Unity, ada beberapa CPU yang didukung oleh ProWorks atau PL7
fitur dari Unity Pro:
5 IEC61131-3 languages + Legacy LL984

Integrated conversion tools dari software Concept, Proworks, PL7 Pro
FDT / DTM standard, untuk integrasi dengan field device
Customizable integrated Function Block Library (DFB)
PLC simulator on PC, Built-in test and diagnostic
Animation tables, Operator Screens and Trending Tool
SCADAPack Merupakan PLC keluaran perusahaan Canada bernama Control Microsystem,  yang saat ini telah di akuisisi oleh Schneider Electric (sebuah perusahaan german). PLC SCADAPack menggunakan Ladder untuk programmingnya, untuk membuat ladder tersebut Control Microsystems menyediakan software gratis bernama Telepace.
Sering jalan-jalan ke kota-kota di indonesia memang mebutuhkan peta yang cukup lengkap untuk menelusuri kota, mencari alamat, dan lain sebagainya. bagi yang memiliki perangkat GPS, atau Handphone yang sudah builtin GPS tidak sulit lagi untuk mendapatkan atau menggunakan peta indonesia, tinggal mendonlodnya dari www.Navigasi.net namun yang jadi masalah ketika kita tidak memiliki perangkat tersebut, bagaimana jika ingin melihat peta indonesia tersebut?
Di dalam subsistem dari SCADA terdapat yang namanya HMI (Human Machine Interface), yang secara harfiah dapat di definisikan sebuah alat/Komputer dengan tampilan grafis yang berhubungan langsung dengan manusia. Jadi HMI adalah sebuah Komputer yang menampilkan data-data dari hasil pengukuran, pengontrolan, atau menggambarkan sebuah proses yang sedang terjadi secara aktual (Real time).
Untuk membuat HMI pada komputer sebenarnya ada banyak jenisnya dan kita dapat membuat HMI dengan konvensional programming seperti Visual Basic, Visual C++, Visual C#, Delphi, Java, dan lain lain. Namun pada industri banyak HMI engineer dan Perusahaan lebih memilih menggunakan sebuah tools instan untuk membuat software HMI seperti  Wonderware. Hal ini disebabkan perusahaan lebih memilih untuk menghemat waktu dan cost dalam pembuatan HMI, sedangkan dari sisi HMI engineer lebih dimudahkan dalam pembuatannya. karena tools-tools grafik dan animasi sudah banyak tersedia di dalam HMI maker seperti Wonderware. walaupun dari sisi harga Wonderware jauh lebih mahal ketimbang dengan harga lisensi pemrograman konvensional bahkan ada yang gratis/open source. READ MORE
When we create and develop some Software Application, sometime we need to use some function more than once, or we need to use some function in another Application. therefor we need to build Dynamic Link Library (DLL). In C# programming, to develop library is just create a Class with static Function.
Go to top