IIoT – Evolution of Industry

Pada awal tahun 2018 tepatnya bulan January, saya sempat diminta untuk mengisi sebuah Acara seminar skala ASEAN di ITB, dengan topic utama Industry 4.0 atau Industrial Revolution generasi 4. seperti yang di cuplik beberapa media dan web resmi ITB:
Pada sesi tersebut, saya menjelaskan beberapa hal mengenai sesuatu yang mendorong terjadinya digitalisasi di dalam Industri dan hal apa saja yang perlu diperhatikan dalam Industry 4.0 ini. slide-slide saya dibawah kebanyakan saya ambil dari Slide yang ada dari Schneider Electric sebagai perusahaan yang sangat aktif dalam melakukan update teknologi pada semua lini produknya.
hal hal yang mendorong terjadinya Digitalisasi Industri atau lebih umumnya dikenal dengan Industrial Automation:
Connectivity, ketika semua device saling terhubung dan merupakan sebuah kebutuhan baru
Mobility, dimana seseorang tidak berdiam disatu tempat untuk satu keperluan, namun cenderung mengerjakan banyak hal dibanyak tempat
Cloud, tersedianya Teknologi awan (cloud) dimana saat ini sudah menjadi solusi murah untuk memiliki server data yang cerdas tanpa harus memilikinya secara fisik.
kebutuhan Analisis dari software yang menyerupai analisa dari manusia, dimana kebutuhan ini dapat diselesaikan dengan Artificial Intelligent yang ditanamkan di software.
Pada poin ini saya menjelaskan bagaimana keadaan teknologi yang tersedia di dalam Control Sytem di area Industri. dimana teknologi Ethernet sudah mendominasi konektifitas dari semua device
READ MORE
Anda pernah bingung apa itu DCS dan apa itu PLC SCADA?
DCS atau Distributed Control System adalah sebuah controller/komputer yang digunakan untuk melakukan kendali / control secara terdistribusi dalam suatu system. kemudian PLC atau Programmable Logic Controller adalah sebuah controller/komputer yang dapat di  isi program untuk melakukan logic tertentu, yang kemudian PLC ini lazim juga disebut PAC (Programmable Automation Controller) karena secara fungsi yang semakin banyak bukan hanya untuk sebuah logic, namun banyak hal.
Namun siapa yang menyangka dua barang yang berbeda pada tahun-tahun 1970-1990 ini sekarang memiliki fitur yang hampir serupa. sebelum membaha fitur, mari kita lihat sejarah awalnya tercipta DCS dan PLC.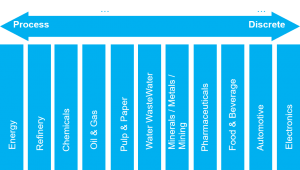 Automation Market by Segment
Just enter your product refference number to this box.
Enter your product ID (without space)
Contoh:
CPU M340 : BMXP342020
Powersupply Phaseo: ABL1REM24025
Powermeter: PM700MG
Current Transformer: 

METSECT5CC005

Quantum NOE: 140NOE77101
Magelis Panel HMI: HMIGTO6310
What you can get from this tools:
Modicon M580 Merupakan ePAC (Ethernet Process Automation Controller) yang di desain compact dan memenuhi kebutuhan untuk medium offer atau skala menengah di Proses Automation.
Fitur Utama: Integrated Distributed IO  dan atau Integrated Distributed IO
Kapasitas CPU Discrete IO : 1024, 2048, 3072, 4096
Kelebihan lain:
Benefits
Achieve a more productive and efficient process
By embedding standard unmodified Ethernet right into its core, Modicon M580 offers you more transparency, flexibility and openness so you can access the right production information at the right time, and achieve a more productive and efficient process.
Performant:
Data management speed up to twice
Timestamping less than 1 millisecond
Innovative:
Open Ethernet backbone
High-tech PAC
High precision
Safety designed for future
Energy efficiency enabling
Cyber secure built-in
Easy and flexible:
Design your architecture without constraints
Modify your process and architecture in run
Diagnose remotly
Reduce your development costs
Sustainable:
httpvh://youtu.be/Uz827S7tjRU
To play this simulation you need to have this item:
Unity PRO S (minimum) / Unity Pro L /Unity Pro XL. Version 5 / 6 / 7 / 8 (I'm not provide the installer, you can find on another forum 1.5 Gb)
Matlab 2012 / Matlab 2013 with simulink (I'm not provide the installer, you can find on another forum 6.5Gb)
Modbus Ehternet OPC Server (Iconics) http://adf.ly/lA1Gt this is free OPC server, you don't need to license the software
Simulink Model, OPC Configuration(should be load from iconics modbus OPC Server) http://adf.ly/lA205
Unity Pro XL adalah software yang digunakan untuk programming & konfigurasi PLC Schneider.
PLC yang di dukung oleh Unity Pro XL antara lain:
M340
Modicon Quantum
Modicon Premium
M580
Pada jenis PLC tersebut tidak semua processor/CPU pada PLC tersebut didukung oleh Unity, ada beberapa CPU yang didukung oleh ProWorks atau PL7
fitur dari Unity Pro:
5 IEC61131-3 languages + Legacy LL984

Integrated conversion tools dari software Concept, Proworks, PL7 Pro
FDT / DTM standard, untuk integrasi dengan field device
Customizable integrated Function Block Library (DFB)
PLC simulator on PC, Built-in test and diagnostic
Animation tables, Operator Screens and Trending Tool
Modbus Slave Multiple RTU merupakan software yang berfungsi sebagai simulator pengganti PLC/Transmitter berbasis modbus. Jadi software ini menjadi PLC "Dummy" yang berisikan register-register modbus (Holding Register, Input Register, Status Register, dan Coil Register). Register tersebut dapat diakses menggunakan serial port dengan menggunakan PLC ataupun Komputer lain yang berfungsi sebagai HMI. Kegunaannya adalah untuk menggantikan PLC sebenarnya agar ketika membuat HMI akan lebih praktis ketika mencoba mengakses register. Kelebihan utama software ini yaitu dapat menjadi beberapa "dummy" sekaligus. cocok untuk membuat HMI pada SCADA system yang memiliki banyak RTU agar lebih praktis tidak memerlukan menggunakan banyak PLC yang sebenarnya.
Allen-Bradley atau biasa disingkat AB adalah brand name dari sebuah perusahaan manufaktur peralatan otomasi yaitu Rockwell Automation. Awalnya perusahaan ini memiliki nama Compression Rheostat Company oleh Lynde Bradley dan Dr. Stanton Allen pada tahun 1903 dan pada tahun 1910 berubah nama menjadi Allen-Bradley Company yang kemudia pada tahun 1985 Rockwell International (sekarang Rockwell Automation) membeli  Allen-Bradley dengan 1.651 milyar USD.
SCADAPack Merupakan PLC keluaran perusahaan Canada bernama Control Microsystem,  yang saat ini telah di akuisisi oleh Schneider Electric (sebuah perusahaan german). PLC SCADAPack menggunakan Ladder untuk programmingnya, untuk membuat ladder tersebut Control Microsystems menyediakan software gratis bernama Telepace.
Memulai menulis dengan yang pertama kali saya temukan dalam dunia engineer diluar kampus yaitu SCADA dan PLC. Hal inilah yang pertama saya harus saya pelajari ketika saya menjadi engineer di sebuah perusahaan EPC yang kebetulan spesialis Oil & Gas industri.  Sebenarnya SCADA dan PLC sudah akrab di telinga ketika masih menjadi seorang mahasiswa teknik fisika. karena dalam beberapa mata kuliah seperti Control Process membahas tentang PLC. bahkan teman-teman mahasiswa banyak yang mengikuti kursus/pelatihan PLC yang seringkali diadakan di Yogyakarta.
Lalu apakah itu SCADA dan PLC?
SCADA atau Supervisory Control and Data Acquition adalah sebuah sistem yang dirancang untuk sebuah pengendalian dan pengambilan data dalam pengawasan (Operator/Manusia). biasanya SCADA digunakan untuk pengendalian suatu proses pada industri. SCADA merupakan sistem yang terdiri dari banyak komponen penyusunnya. READ MORE
Go to top