SCADA
Berikut adalah OS compatibility dan Hardware untuk beberapa SCADA yang paling mendominasi.
READ MORE
Jadi, awalnya ini pertama saya ketemu sama PLC murmer yang tidak terlalu common, dan saya juga tertarik untuk coba komunikasi ngambil data dari PLC ini. di sisi PLC cukup di setting di Basic Communication Information dan kemudian bisa assign IP address disini. yang kedua di User Connection information setting 1…16 yang artinya ada 16 jenis koneksi yang bisa dilakukan ke PLC ini dengan port dan setting yang berbeda. kita cukup atur satu saja.
pertama kita set dulu IP nya di Basic Communication Information seperti gambar berikut: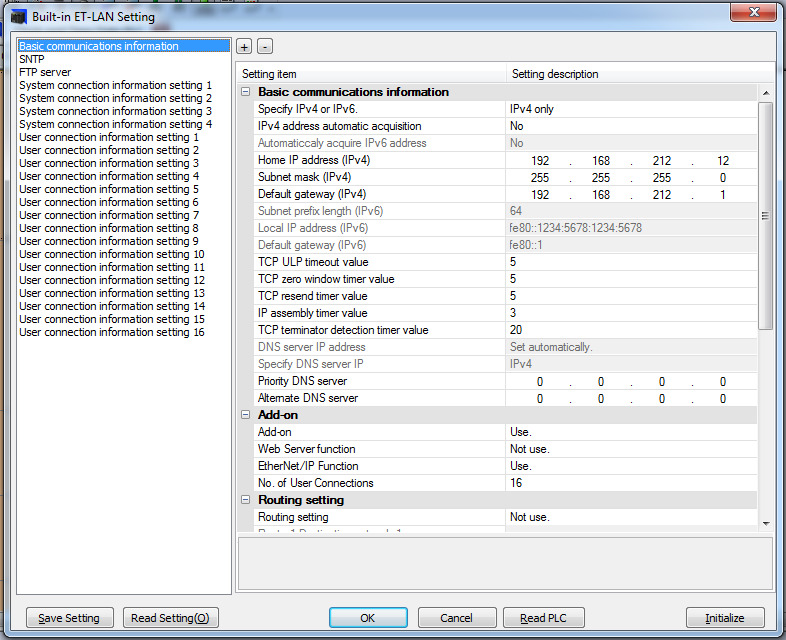 Kemudian masuk ke setting User connection information setting 1 dan setting seperti ini atau sesuai kebutuhan. terutama di PORT dan communication Type yaitu menggunakan UDP atau TCP. (kita set menggunakan UDP)
Kemudian……..
READ MORE
IIoT – Evolution of Industry

Pada awal tahun 2018 tepatnya bulan January, saya sempat diminta untuk mengisi sebuah Acara seminar skala ASEAN di ITB, dengan topic utama Industry 4.0 atau Industrial Revolution generasi 4. seperti yang di cuplik beberapa media dan web resmi ITB:
Pada sesi tersebut, saya menjelaskan beberapa hal mengenai sesuatu yang mendorong terjadinya digitalisasi di dalam Industri dan hal apa saja yang perlu diperhatikan dalam Industry 4.0 ini. slide-slide saya dibawah kebanyakan saya ambil dari Slide yang ada dari Schneider Electric sebagai perusahaan yang sangat aktif dalam melakukan update teknologi pada semua lini produknya.
hal hal yang mendorong terjadinya Digitalisasi Industri atau lebih umumnya dikenal dengan Industrial Automation:
Connectivity, ketika semua device saling terhubung dan merupakan sebuah kebutuhan baru
Mobility, dimana seseorang tidak berdiam disatu tempat untuk satu keperluan, namun cenderung mengerjakan banyak hal dibanyak tempat
Cloud, tersedianya Teknologi awan (cloud) dimana saat ini sudah menjadi solusi murah untuk memiliki server data yang cerdas tanpa harus memilikinya secara fisik.
kebutuhan Analisis dari software yang menyerupai analisa dari manusia, dimana kebutuhan ini dapat diselesaikan dengan Artificial Intelligent yang ditanamkan di software.
Pada poin ini saya menjelaskan bagaimana keadaan teknologi yang tersedia di dalam Control Sytem di area Industri. dimana teknologi Ethernet sudah mendominasi konektifitas dari semua device
READ MORE
Cara membaca nilai ION7650 power logic ke SCADA CitectSCADA 2016. melalui Ethernet (Modbus TCP)
Citect SCADA, Ion powermeter
Connection Citect to S7 PLC via PSDirect Driver
Tested in S7-1500 and S7-1200 also work with S7-300 Simulator
Notes: this driver is licensed and need to be order.
Jika anda membutuhkan sebuah data logger dari Citect SCADA / vijeo citect ke SQL misal Ms SQL Server, atau anda ingin melalukan sejumlah sampling data dari Citect SCADA / Vijeo Citect ke database, berikut video solusinya:
Cara logging data Citect SCADA ke SQL, Citect to SQL
Go to top